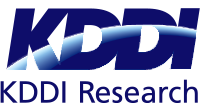 Print
World's first 8K video live transmission experiment using real-time H.266|VVC codec
Advanced Technology Laboratories
World's first 8K video live transmission experiment using real-time H.266|VVC codec
~ To enable all consumers to enjoy immersive video over various networks ~
April 19, 2021
KDDI Research, Inc.
Saitama, April 19, 2021 -- KDDI Research, Inc. announced today that it has successfully performed the world's first (Note 1) 8K video live transmission experiment using a real-time video codec system that supports the latest video coding standard H.266|Versatile Video Coding (hereinafter referred to as "VVC").
The experiment demonstrated that video quality can be kept stable at half the bitrate of Japan's current 8K satellite broadcasting where H.265|HEVC is utilized as a real-time codec.
This proves that a variety of network lines, including mobile access, can be utilized for 8K live transmission in the future, which today is generally provided using bandwidth-guaranteed network lines.
This will make it easier to set up public viewing venues, for instance, and expand 8K live viewing opportunities for consumers.
Furthermore, the realization of "user-centric" and high-realistic video services can be expected, which means the quality of experience can be optimized depending on the consumer's video receiving environment (Note 2).
[Background]
1. This demonstration is a follow-up to two breakthroughs in VVC research announced by KDDI Research in September and December 2020.
- KDDI Research develops the world's first 4K H.266|VVC real-time encoder.
- World's first 4K video live transmission experiment using real-time H.266|VVC codec.
2. VVC, the latest video coding standard, achieves double the video compression performance of H.265|HEVC (High Efficiency Video Coding, hereinafter referred to as "HEVC"), an international video coding standard widely used in current 4K/8K broadcasting and video distribution services over the Internet. VVC was standardized by the international standardization organizations ITU-T and ISO/IEC in August 2020. In Japan, VVC is being considered as one of the video coding standards for the next-generation digital terrestrial television systems promoted by the Ministry of Internal Affairs and Communications (Note 3).
3. 8K is the highest resolution available in current broadcasting services and provides a highly realistic visual experience. In addition, it is expected to be used for industrial applications such as remote work support ; for example, where detailed visual information needs to be exchanged during facility inspections.
[Overview of the experiment]
On April 16, 2021, the 8K camera-captured live video was compressed by a real-time VVC software encoder with 8K capability (hereinafter referred to as "VVC 8K encoder") and transmitted over a network line from the headquarters of KDDI Research, Inc. (Fujimino-shi Saitama). The compressed 8K live streaming was received at a branch office of KDDI Research, Inc. (Minato-ku, Tokyo) and confirmed that stable viewing was feasible. Since VVC has twice the compression performance of HEVC, the required bitrate for 8K broadcasting can be reduced to approximately 40 Mbps from 85 Mbps with HEVC, for example.

Figure: Application example
[Main point of the experiment]
KDDI Research has successfully developed the world's first VVC 8K encoder (Note 1) by improving the speed-up and parallelization processes and scaling up the multi-core CPU platform from 4K to 8K. Specifically, we have not only increased the number of CPUs according to the resolution extension but also decreased the idle time by minimizing the exchange of images among the CPUs. As a result, CPU utilization is increased, and we succeeded in speeding up processing.
[Future vision]
KDDI Research will further improve the processing speed to support high frame rate video sequences for events such as sports.
This work was a unique initiative of KDDI Research, utilizing the results of research and development which had been supported by "Strategic Information and Communications R&D Promotion Programme (SCOPE)" of Ministry of Internal Affairs and Communications, Grant no. JPJ000595.
[Initiative of KDDI Research]
KDDI and KDDI Research have formulated the next-generation society concept "KDDI Accelerate 5.0" with an eye to the year 2030.
To realize this concept, we have published the "Beyond 5G/6G White Paper" summarizing both the "future vision" and "technologies" required to foster an ecosystem for innovation.
The two companies will promote research and development and orchestration of seven technologies closely linked to each other, aiming at the realization of new lifestyles. This achievement corresponds to the "XR" category of the seven technologies.
[Note]
1. This is the world's first successful development of a real-time VVC 8K encoder and demonstration of 8K live video transmission over networks using this encoder. (examined by KDDI Research as of April 19, 2021)
2. A service that provides the optimal transmission method depending on the environment of the user viewing the video. This provides a highly realistic viewing experience of video content. Since the bitrate required for 8K video can be halved, this initiative will lead to the realization of user-centric services, for example, by reducing the impact of changes in line bandwidth on viewing resolution.
3. Broadcasting System Committee, Information and Telecommunications Technology Subcommittee, Information and Telecommunications Council (74th meeting), Document 74-2 (in Japanese)
[Supplement]
➢Bitrate: The number of bits transmitted per unit of time. Bits per second (bps) is the number of bits transmitted per second.
➢Encoder: System responsible for video coding. Video coding is a compression method used to transmit and store video signals with limited bandwidth and capacity, and reduces the amount of data by using similarity within and between images. For example, H.265|HEVC, an international standard coding method, is used in the current 4K/8K satellite broadcasting that began in 2018, and 8K video, which originally required about 72 Gbps, is compressed to 85 Mbps for transmission.
➢Decoder: System that receives the compressed data output from the encoder and decodes it into video. Preparation of a decoding process corresponding to each video coding standard is required, and interoperability across different coding standards is generally not guaranteed.
➢H.265|HEVC: The video compression coding standard that was jointly standardized by ITU-T and ISO/IEC subordinate organizations in 2013.
➢Real-time encoder: An encoder that can complete the encoding process for 8K video at a speed of 30 fps (frames per second) or higher. It is essential for live video transmission.
※The information contained in the articles is current at the time of publication.Products, service fees, service content and specifications, contact information, and other details are subject to change without notice.