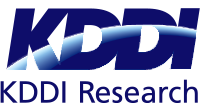 Content Guidelines
Site Policy
The KDDI Research website ("Website" hereinafter) is operated by KDDI Research, Inc.("KDDI Research" hereinafter). Before using this Website, please read and consent to the following usage conditions. Please be aware that Site Policy and related regulations may change without prior notice.
Disclaimer
KDDI Research does not provide any guarantee whatsoever regarding the completeness and accuracy of the information that appears on this Website. KDDI Research may change the information appearing on this Website without prior notice.
KDDI Research and all affiliated companies bear absolutely no liability in any form for any direct or indirect losses incurred as a result of using any of the information or content contained in this Website.
Copyrights & Trademarks
The copyrights to all text, images, logos, photographs, videos and animations, software, and all other information contained in the Website belong to KDDI Research or a third party.
You shall not use (including copying, altering, distributing, and sending to the general public) this information without obtaining the prior consent of the copyright owner, unless acceptable under copyright law, such as in the case of private use. KDDI Research product or service names appearing on this Website are KDDI Research trademarks or registered trademarks.
Governing law and jurisdiction
The use of this website, the interpretation and application of the Terms and Conditions and the Disclaimer are governed by and construed in accordance with the laws of Japan unless stipulated otherwise.
Access to this website is based on the free will of the customer who has been accessed,Responsibility for the use of this website is to the customer who is accessed.
Unless stipulated otherwise, the Saitama District Court in Saitama, Japan shall have the exclusive jurisdiction of the first trial for all disputes in connection with all controversies and disputes arising out of or relating to the use of this website.
Linking to this Web site
In principle, linking to this Web site is permitted from any commercial or non-commercial purpose. However, a link this Web site is prohibited on any website that falls into, or may be categorized, as any of the following.
Websites that include content intended to slander or injure the reliability of KDDI Research, another company (or individual), or another organization.
Websites that engage in or may possibly engage in conduct that infringes upon the intellectual property rights, such as copyrights or trademark rights, or assets, privacy, right of portrait, or any other rights of KDDI Research, another company (or individual), or another organization.
Websites that make it unclear that the displayed content is KDDI Research content or have the possibility of misrepresenting to a third party through a method such as displaying this Website within a frame (KDDI Research requests that you set links to this Website so that either the browser window changes completely to the destination page or the destination page opens up in a new browser window).
In addition to the above, any website which engages in conduct that violates laws and ordinances, including acts, regulations, or rules, or goes against generally accepted rules of morality or conduct that interferes with the operation of this Website's service.
KDDI Research does not authorize the posting of links using registered trademarks, such as logos and marks owned by KDDI Research, without permission. KDDI Research does not allow the posting of links in such a way as to misidentify the information source.
Please be aware that KDDI Research may change the URL for this Website and is not able to send notification to your website.
Security
KDDI Research has issued a Security Statement based on its Basic Policy Regarding Information Security. In addition to disclosing this Statement both within and outside the company, KDDI Research pledges to comply with this Statement in accordance with Privacy Policy compliance.
Recommended Environment
For a safer and more pleasant experience, KDDI Research recommends that you view this Website on one of the following browsers.
Windows
・Microsoft Internet Explorer latest version
・Mozilla Firefox latest version
・Google Chrome latest version
Macintosh
・Safari latest version
Plug-ins
For the OS, KDDI Research recommend using Windows or Mac OS.
For the browser, KDDI Research recommend using the latest version of Internet Explorer, Firefox, Safari or Chrome.
In order for users to enjoy using this Site, KDDI Research has contents that utilize animation, video and PDF. In order to enjoy these contents, KDDI Resarch recommend that you download the following plug-in software if you have not done so previously.

In order to view Flash files, you must have the latest Adobe® Flash® Player plug-in offered free of charge from Adobe Systems, Inc.

In order to view PDF files, you must have the Adobe® Reader® plug-in offered free of charge from Adobe Systems, Inc. When viewing the PDF files with Adobe® Acrobat®, use version 10 or later.

In order to view QuickTime files, you must have the QuickTime® Player plug-in offered free of charge from Apple Computer.
In order to view Windows Media files, you must have the Windows Media® Player plug-in offered free of charge from Microsoft Corporation.
JavaScript
This Website uses JavaScript for some of the contents in order to provide a more enjoyable experience for the user.
Please be aware that if you do not have JavaScript turned on in your browser settings, some contents may not display or operate properly.
SSL
In order to increase the security level, this Website uses SSL (Secure Socket Layer) encrypted transmission for some services. Your web browser must be compatible with 128 bit SSL in order to use those services.
Using a web browser compatible with security functionality allows you to send and receive automatically encrypted private information such as your real name, postal address, and phone number.
This way, there is absolutely no worry about information theft even in the unlikely event that a third party is able to intercept the data you send.
Also, you might not be able to use these pages depending on your settings, such as a firewall setting.
Refer to the VeriSign Japan website for detailed information about SSL and browser compatibility.
Cookies
This Website uses Cookies in order to make your experience at this Website more convenient and in order to obtain data to help KDDI Research continually improve this Website.
Cookies are data regarding the operation of this Website that is sent to your browser from the server and stored in your computer.
However, the stored data does not contain any information which can identify you, such as your name, address, or phone number.
Also, this poses no direct adverse effect to your computer.
To assess the ways individual pages of this Website are accessed, KDDI Research may use the cookies of a third party company with which it has an operating consignment agreement.
You can refuse to accept cookies by changing the settings in your browser. Doing so will not greatly impair your ability to view this Website. To learn how to change your browser settings, please consult your browser's help page or contact the manufacturer.
About access data
This Website contains pages that are embedded with collection tags used to tally the access status of visitors to the Website. Access status includes the URL(s) of the page(s) accessed, the date and time of access, information that identifies the browser, etc.
KDDI Research uses this access data to improve customer convenience and to maintain and improve the quality of the Website. In addition, combining access data with cookies and a personal identifier conferred by KDDI Research(KDDI Research identifier) as well as customer attribute information enables us to display on the Website information that may be beneficial to the individual customer.
You can disable (opt out of) this feature via the opt-out page of the company given below. Doing so will stop the use by us of the KDDI Research identifier and your customer attribute information on this Website.
About Cookie-based advertisement distribution by third-party advertisement distributors
KDDI Research's advertisements appear on various Internet websites due to our tie-ups with a number of third-party advertisement distribution companies.
These third-party advertisement distribution companies distribute these advertisements using cookies, access data, KDDI Research identifiers and customer attribute information. The information used by the advertisement distribution companies is processed by KDDI Research so that no individual customer can be identified by any advertisement distribution company.
By accessing the opt-out page of each of the advertisement distributors, you can disable this feature and prevent the use of cookies and access data by the advertisement distributors.