Greeting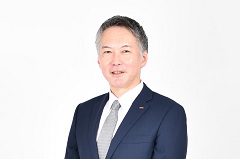 Toward human-centric affluent society via new value creation
Toward human-centric affluent society via new value creation
Our living environment, as well as everything from lifestyles to business and society, is changing drastically through the development of information and communication technology (ICT), such as the progress of artificial intelligence (AI) technology powered by deep learning, autonomous driving technology, and the forthcoming 5G era (5th generation mobile communications system). Moreover, in recent years, new business models have been created one after another, including growth in the sharing economy and the increased use of virtual currency on the Internet.
While we have been experiencing such a digital transformation as described above, KDDI R&D Laboratories, Inc., and KDDI Research Institute, Inc., merged, and a new company, KDDI Research, Inc., was born on October 1, 2016.
Looking to the future beyond 2020, KDDI Research would like to strengthen and accelerate the creation of next-generation technologies and the enhancement of the ability to predict the future across the company, while promoting a seamless flow from research analysis to R&D. In order to provide customers with new value and experiences, we would like to continue the "Challenge for the Future" through such activities.
We would like to express our deep appreciation for your continued support and cooperation.
Hajime Nakamura
KDDI Research, Inc.
President, Chief Executive Officer