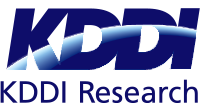 Print
World's first 4K video live transmission experiment using real-time H.266|VVC codec
Advanced Technology Laboratories
World's first 4K video live transmission experiment using real-time H.266|VVC codec
To enable all consumers to enjoy immersive video over various networks
December 23, 2020
KDDI Research, Inc.
Saitama, December 23, 2020 -- KDDI Research, Inc. announced today that it has successfully performed the world's first (Note 1) 4K UHD video live transmission experiment using a real-time video codec system that supports the latest video coding standard H.266|Versatile Video Coding (hereinafter referred to as "VVC") (Note 2).
The experiment demonstrated that video quality can be kept stable at half the bitrate of the current 4K satellite broadcasting where H.265|HEVC is utilized as a real-time codec.
This proves that mobile access network lines can be utilized for 4K UHD live transmission in the future, which is currently provided using bandwidth-guaranteed network lines. This will make it easier to set up public viewing venues, for instance, and expand 4K UHD live viewing opportunities for consumers.
[Background]
This demonstration is a follow-up to the research and development results on VVC, "KDDI Research Develops the world's first 4K H.266|VVC real-time encoder," announced by KDDI Research in September 2020 (Note 3).
[Overview of the experiment]
On December 22, 2020, the 4K VR camera-captured live video (live music event video) was compressed by a real-time VVC software encoder with 4K capability (hereinafter referred to as "VVC 4K encoder") and transmitted over a network line from the studio in Harajuku (Tokyo). The compressed 4K UHD live streaming video was received via a mobile access network line, confirming the feasibility of stable viewing at a dome theater in Shiodome (Tokyo). Compared to H.265|HEVC (High Efficiency Video Coding, hereinafter referred to as "HEVC"), this encoder can halve the data amount while maintaining video quality. Therefore, 4K video can be transmitted stably even over mobile access network lines.

Figure: Example applications
[Future vision]
KDDI Research will continue to work on initiatives to enable all consumers to enjoy more immersive and realistic high-quality videos, support high-resolution and high frame rates, further improve compression efficiency.
This work was supported by "Strategic Information and Communications R&D Promotion Programme (SCOPE)" of Ministry of Internal Affairs and Communications, Grant no. JPJ000595.
[Note]
1. This is the world's first demonstration of live video transmission over networks using VVC real-time encoder. (examined by KDDI Research as of December 22, 2020)
2. VVC is a video coding standard that achieves double the video compression performance compared to H.265|HEVC, an international standard for video coding widely used for 4K/8K broadcasting and video services distributed over the Internet. VVC was standardized by the international standardization organizations ITU-T and ISO/IEC in August 2020.
3. KDDI Research Develops the world's first 4K H.266|VVC real-time encoder
[Supplement]
➢Encoder: Refers to a system for executing video coding. Video coding is a compression method used to distribute or archive video signals with limited bandwidth and capacity, which reduces the size of the data by utilizing the similarities in a frame or between frames. For example, in the current 4K/8K satellite broadcast in the advanced BS started in 2018, the international video coding standard H.265|HEVC is used. It distributes 4K videos by compressing them to about 30 Mbps, while the uncompressed 4K videos requires 7,500 Mbps.
➢Decoder: Refers to a system that receives the data compressed by an encoder and decodes the data back to the uncompressed video. A decoder must support the same coding standard used at the encoder side.
➢H.265|HEVC: A video coding standard jointly standardized by the international standardization organizations ITU-T and ISO/IEC in 2013. The operation of H.265|HEVC for domestic broadcast is prescribed in ARIB STD-B32 Part 3.
➢Real-time encoder: An encoder that can complete the encoding process for 4K video at a speed of 30 fps (frames per second) or higher. It is essential for live video transmission.
※The information contained in the articles is current at the time of publication.Products, service fees, service content and specifications, contact information, and other details are subject to change without notice.