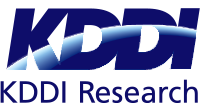 Print
KDDI Research Develops the world's first 4K H.266|VVC real-time encoder
KDDI Research Develops the world's first 4K H.266|VVC real-time encoder
To enable all consumers to enjoy immersive video
September 1, 2020
KDDI Research, Inc.
Saitama, September 1, 2020 -- KDDI Research, Inc. announced today that has successfully developed the world's first (*1) 4K real-time encoder that supports the latest video coding standard H.266|Versatile Video Coding, hereinafter called "VVC" (*2). This enables real time 4K high resolution video distribution at half the data size of the most commonly used video coding standard, H.265|High Efficiency Video Coding, hereinafter called "HEVC". With this new technology, it is possible to enjoy a more immersive, realistic, and exciting experience. Events, such as sports and concerts, can be live streamed in 4K high resolution video and enjoyed on TV, tablets, smartphones, and a variety of other devices. Moreover, 4K streaming can be applied to remote-working environments, which are currently provided with low-resolution transmission video due to their limited bandwidth.

Figure 1: Example applications
[Background]
Recently, video traffic has been increased drastically along with the improvement of image format, such as high dynamic range (HDR) and 360-degree videos, as well as ultra-high definition 4K and 8K videos. Besides, the watching devices become much more diverse, not only TV and PCs, but smartphones and head-mounted displays, as well. In order to allow us to conveniently watch such videos in real-time, it is essential how to reduce video traffic while maintaining the video quality.
For addressing this issue, KDDI Research has contributed to the development of international standards, VVC, since 2017 as a new video coding standard beyond HEVC. VVC is targeted for diverse format such as 4K/8K resolutions, high dynamic range (HDR), and 360-degree videos. While it achieves compression performance twice that of HEVC, the processing load for the compression increases by about ten times that of HEVC.(*3)
[Results]
KDDI Research invented and introduced a high speed processing and parallelization implementation, which is efficient in practical use of VVC and developed the world's first software based 4K/60fps real-time encoder that supports VVC.
・High speed processing
For VVC, the number of pixels of the Coding Tree Block (CTB), which represents the size of the coding processing unit, has become four times larger than that of HEVC, and VVC allows blocks to be partitioned with various patterns.(*4) This enables VVC to be coded in a more adequate block size depending on the input video and consequently improves the compression performance. Whether the appropriate block size can be determined by the CTB affects the compression performance. The most common method to select the optimum block size with HEVC was to apply a tentative coding process to all patterns and chose the most effective one (hereinafter called "conventional method"). When applying the conventional method to VVC, a significant number of the partitioning patterns directly increase the processing time, which makes real-time processing infeasible to be realized. With this new development, the block size is now determined in advance by pre-analyzing the input video; the coding process is thus completed with only the optimum pattern. This technique achieved about 30 times faster processing speed compared to the conventional methods.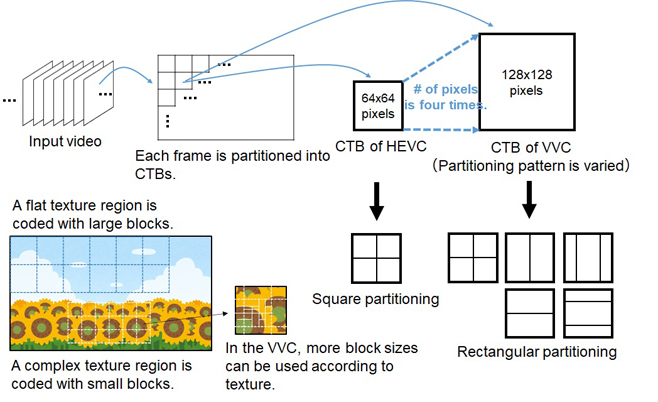 Figure 2: Coding unit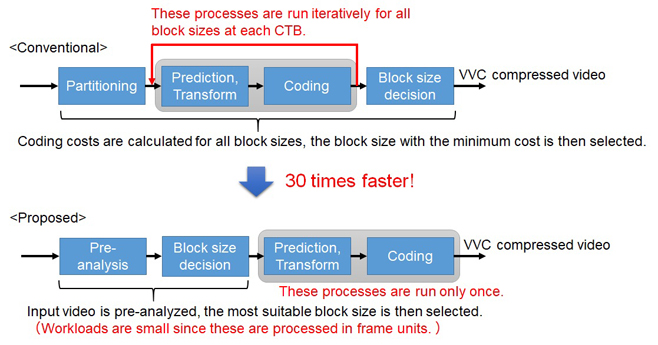 Figure 3: High-speed processing
・Parallelization processing
Implementing parallelization is indispensable for real-time processing due to the use of a software-based approach. On a conventional video codecs, including HEVC, it has been common to perform parallel processing using several CPU cores on the basis of a CTB. Accordingly with the increase in CTB size and the much various block sizes of VVC, the processing load largely varies depending on the CTB; CPU performance was therefore not equalized by the simple parallel processing enclosed in the frame. To resolve this issue, a system was introduced to schedule the processing of CTBs across multiple frames. Because of this change, the CPU performance was brought close to the ideal, which has successfully improved the speed of the processing.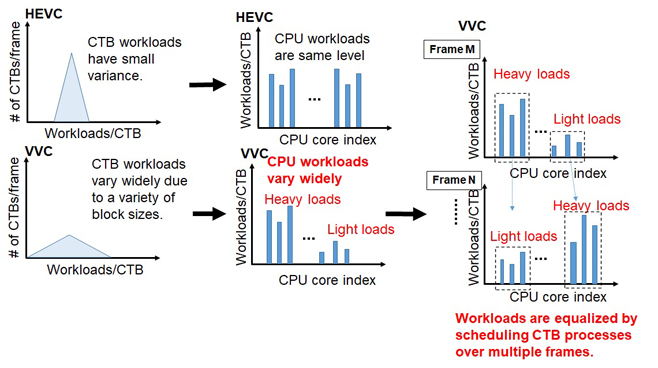 Figure 4: Parallelization processing
[Future vision]
KDDI Research will continue to work on initiatives to enable all consumers to enjoy more immersive and realistic high-quality videos, support high-resolution and high frame rates, further improve compression efficiency, and introduce them into KDDI Research's video-related products. (*5)
This work was supported by "Strategic Information and Communications R&D Promotion Programme(SCOPE)" of Ministry of Internal Affairs and Communications, Grant no. JPJ000595.
(*1) The world's first VVC real-time encoder is not affected by resolution (examined by KDDI Research as of September 1, 2020)
(*2) The VVC is a video coding standard that offers twice the performance of video compression compared to H.265|HEVC, an international standard for video coding standard widely used for 4K/8K broadcasting and video services distributed over the Internet. The VVC was standardized by the international standardization organizations ITU-T and ISO/IEC in August 2020.
(*3) Source: JVET AHG report: Test model software development (AHG3), JVET-S0003.
(*4) Source: ITU-T Recommendation H.266, Versatile Video Coding.
(*5) VistaFinder Mx (https://www.kddi-research.jp/products/vistafinder.html), MP-Factory (https://www.kddi-research.jp/products/mp_factory.html)
[Supplement]
Figures and terminologies
➢Encoder: Refers to a system to execute the video coding. Video coding is a compression method used to distribute or archive video signals with limited bandwidth and capacity, which reduces the size of the data by utilizing the similarities in the frame or between the frames. For example, in the new 4K/8K satellite broadcast in the advanced BS started in 2018, the international video coding standard H.265|HEVC is used. It distributes 4K videos by compressing them to about 30 Mbps, while the uncompressed 4K videos requires 7,500 Mbps.
➢Decoder: Refers to a system to receive the data compressed by an encoder and decodes the data back to the uncompressed video. A decoder must support the same coding standard used at the encoder side.
➢H.265|HEVC: A video coding standard jointly standardized by international standardization organizations of ITU-T and ISO/IEC in 2013. The operation of H.265|HEVC for domestic broadcast is prescribed in ARIB STD-B32 Part 3.
※The information contained in the articles is current at the time of publication.Products, service fees, service content and specifications, contact information, and other details are subject to change without notice.