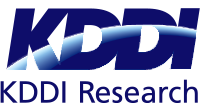 Print
VistaFinder Mx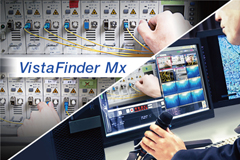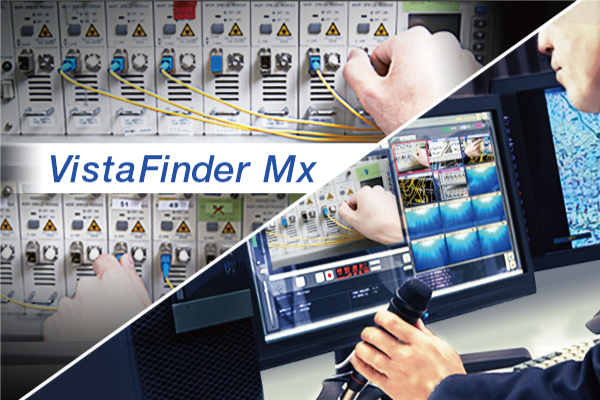 Video transmission system for remote field support, using AR technology
Recommended network :4G LTE, WiMAX2+, Wi-Fi, and satellite communications (BGAN)
VistaFinder Mx is provided and maintained by KDDI Technology Corporation. Please refer to the KDDI Technology Corporation website (Japanese Only)
Overview
VistaFinder Mx is a remote operations support system that allows video taken by smart glasses, smartphones, mobile PCs, and other devices to relay remotely from the field over various types of networks, simply, securely, and in high quality. The system provides a variety of functions, including operational instruction and confirmation through live audio and video, recording of on-site video, hands-free type transmission utilizing smart glasses, intuitive instruction by AR (augmented reality) technology, as well as map displays of transmitter locations.
Recommended network: 4G LTE, WiMAX2+, Wi-Fi, and satellite communications (BGAN)
Features
Secure, High-quality Video Transmissions
Offering top-grade security performance
-Employs the latest encryption technology, safer and lighter on CPU load.
Equipped with the KCipher-2* algorithm developed by KDDI Research, Inc. The CPU workload for the smartphone with KCipher-2 is very light, since it offers high-speed processing about 10 times faster than the conventional Advanced Encryption Standard (AES) algorithm.
*Certified with ISO18033-4, and selected as one of the recommended e-Government encryption methods.
-Can also be used over completely closed networks
Can be used even in environments where Internet access is unavailable

Offers stable video quality over mobile network as well
-Dynamic control of video quality based on communication network quality
Equipped with proprietary transmission control technology that automatically adjusts to changes in communication network bandwidth. Realizes stable transmission of mobile network, or even low-bandwidth satellite links, which tend to have spotty quality.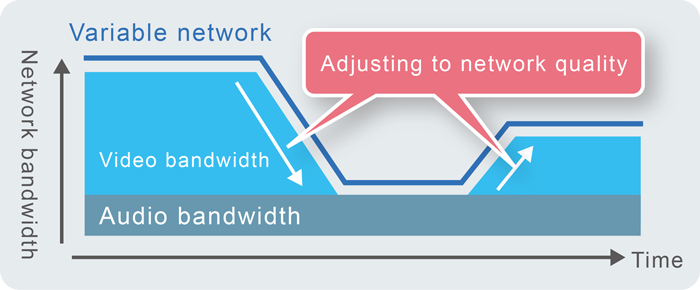 -Adjustment for communication network handover
Even when communication network handovers are performed while in motion or for some other reason, ongoing automatic adjustments are made to transmission.
*When handing over, the transmission is suspended and then resumed. In addition, depending on the network status, it may not be possible to continue transmission.
Other standard functions
-High-quality file transfer
Even if an on-site communication network is unavailable, it is possible to later transmit a recorded file of the video saved in the device. This and other functions are part of the various wide-ranging support operations available other than live relay.
-Recording video and saving still photos
In the receiver device, it is possible to record all the video received and to take still photos. Viewing saved files and secondary usage are also possible.
-Remote control of transmitter device from receiver device
Can start, stop, and change parameters for the transmitter from receiver devices. This frees up the operator's hands as remote support for operations is performed.
-Video monitoring for remote sites (up to 12 locations)
Depending on operational conditions, the number of simultaneously received devices can be selected from one site, four sites, or 12 sites.
-Sharing still images
Still images such as design drawings can be transmitted from the receiver device of the Windows PC to the transmitter device and shared as auxiliary information.
• Some transmitter devices do not support this function.
Hands-Free type for field operation (optional)
Confirms instruction with small display in front of the user
Supports AndroidTM-equipped smart glasses* with camera. While transmitting a video in the line of sight through the hands-free camera, it is possible to confirm operational instruction on the small display in front of the user's eye location.
Recommended device is the Vuzix M400. Please ask about other equipment.

Enables hands-free video transmission with a smartphone* connecting USB camera
Even at field maintenance and monitoring sites, using a smartphone with a wearable camera removes the burden from the operator, facilitating the transmission of on-site video.
The picture on the right is a wearable camera from Infinitegra Inc.
This function is available only on AndroidTM-equipped smartphones. Please ask about the attachable camera.
AR function provides intuitive remote field support (optional)
More than just audio, intuitive remote operation instruction is also available through the use of AR. The handwritten operational instruction in the device on the manager's side can be transmitted to precisely adjust the on-site video, in real time. In this way it helps to enhance operation efficiency and minimize human error.
*Augmented reality (AR): A technology whereby virtual additional information, such as instruction contents, can be precisely overlapped on the real video and displayed to express instruction details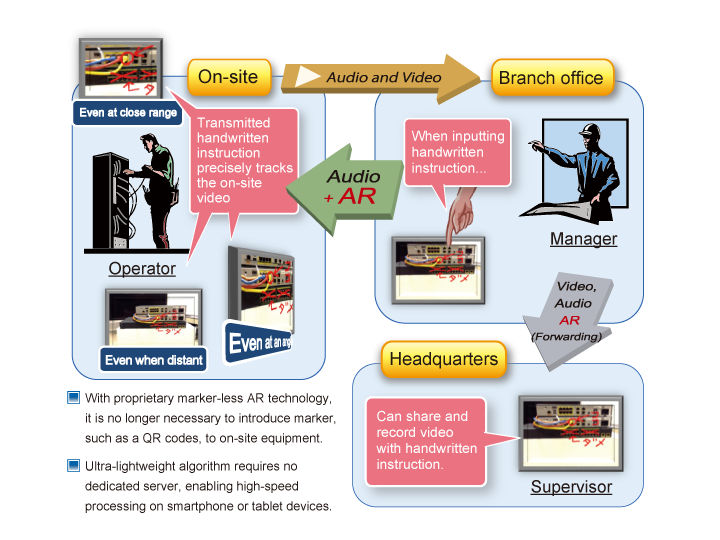 In addition, our proprietary technology PITARI* makes it possible to display AR instructions given by remote experts properly in accordance with the field of view of workers wearing transparent smart glasses. Therefore, it is possible for workers to work while watching intuitive instructions hands-free.
* PITARI (PIctureless Transmissive Augmented Reality Interface), compatible devices are EPSON MOVERIO BT-300/350.
Other Functions
-Live forwarding for sharing videos across multiple sites (optional)
Video that has been received can be forwarded to receiver devices at different sites and shared in real time to multiple locations. In addition, voice communications can also be shared between the transmitter device and multiple receiver devices, among other features, enabling the construction of a flexible field support framework.

-Understand transmitter location with mapping function (optional)
The location of a transmitter smartphone can be confirmed, in real time, on a receiver-side map. By understanding the location of a transmitter device in motion, and its positional relationship with multiple transmitter devices, the precise status can be ascertained and operational instruction can also be provided.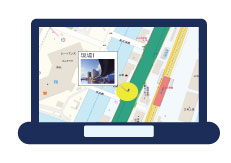 Display of location for each transmitter device receiving data in real time
Display of location history when replaying recorded files
Display of location trajectory for transmitter devices
Android is a trademark or registered trademark of Google Inc.
The iOS trademark is used under license from Cisco in the United States.
Windows is a trademark or registered trademark of U.S.-based Microsoft Corporation in the U.S. and other countries.
Intel Atom and Intel Core are trademarks of Intel Corporation in the U.S. and/or other countries.
Wi-Fi is a trademark or registered trademark of Wi-Fi Alliance.
WiMAX is a trademark or registered trademark of WiMAX Forum.
WiMAX2+ is a mobile Internet service provided by UQ Communications Inc.
BGAN is a telecommunications link service provided by U.K.-based Inmarsat plc.
Super MAPPLE Digital is a registered trademark of Shobunsha Publications, Inc.
This product is equipped with the eVideoTM technology of Oki Electric Industry Co., Ltd.
This product is equipped with the Android USB camera connection technology of Infinitegra, Inc.
WAT is a registered trademark of Watec Co., Ltd.
Vuzix is a trademark of Vuzix Corporation.
NrealLight is a registered trademark of Nreal Ltd.
All other brand names and product names are trademarks held by their respective owners.
These specifications may change without prior notification.