Social Experiment of "Multiple Language Voice Translation System" for Visitors using Tourist Taxi in Okinawa
<Attachment>
1. Objective
To realize fluent communication of foreigners in public transportation, KDDI and KDDI Research will conduct a social experiment in real field using Multiple Language Voice Translation System and related technologies. In the experiment, we will clarify issues and implement solutions to allow quicker technology penetration, and realize more advanced hospitality experience.
In the past, KDDI and KDDI Research have conducted social experiments using Multiple Language Voice Translation System in Tottori City and Tokyo from November, 2015 and December, 2016, respectively. This experiment will be the third social experiment.
・Social Experiment Using Multiple Language Voice Translation System in Tourist Taxis for Visitors in Japan - Achieving Multiple Language Tourist Guidance with the 1000 Yen Taxi Service in Tottori City, Tottori -
・Social Experiment using Multiple Language Voice Translation in "Tokyo Sightseeing Taxi" for Visitors in Japan. - Realization of hospitality with user interface that utilizes not only audio but also video - (in Japanese only)
2. Experiment Period
November 2017 to March 2018.
3. System Overview
In the experiment, the user communicates to the driver by talking through tablets and microphones attached to the rear seat and microphones in the driver's seat. Each conversation is translated into the target language by the Multiple Language Voice Translation platform located on the cloud. By additionally using GPS information, it is possible to select regional dictionaries to improve the accuracy of the system by identifying specific geographical terms and homonym.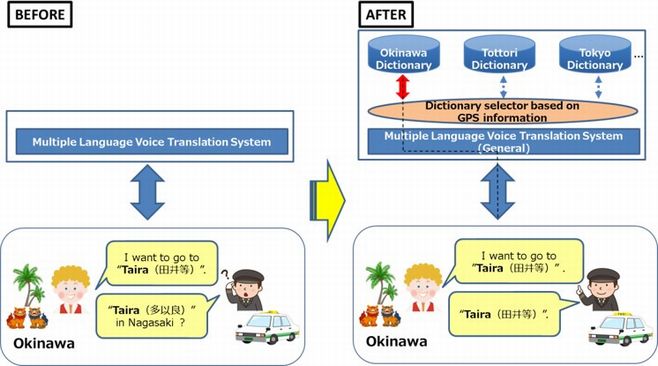 <Linkage of region-specific proper nouns using GPS>
4. Experiment Details
1) Analyze the content of the communication of foreign tourists and drivers to understand the actual usage of the taxi.
2) Conduct interviews with drivers to clarify obstacles during communication with foreign tourists from the driver's point-of-view.
5. Contact
Okinawa Hire-Taxi Association 098-855-1344
This experiment was conducted as part of the "Promotion of the Global Communication Plan - Research, Development, and Social Experimentation of Multiple Language Voice Translation Technology –" research and development project commissioned by the Ministry of Internal Affairs and Communications.
※The information contained in the articles is current at the time of publication.Products, service fees, service content and specifications, contact information, and other details are subject to change without notice.