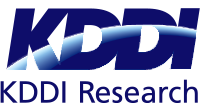 Print
Social Experiment of "Multiple Language Voice Translation System" for Visitors using Tourist Taxi in Okinawa
Social Experiment of "Multiple Language Voice Translation System" for Visitors using Tourist Taxi in Okinawa
- Fluent Translation of Okinawa-specific Locations using GPS -
November 16, 2017
KDDI Corporation
KDDI Research, Inc.
Okinawa Hire-Taxi Association
Okinawa Cellular Telephone Company
From November 16, 2017, KDDI, KDDI Research, Okinawa Hire-Taxi Association and Okinawa Cellular will begin a social experiment using Multiple Language Voice Translation System [1] for tourist taxis in Okinawa.
Due to expansion of flights to and from Okinawa and increase in the number of cruise ships [2], foreign tourists in Okinawa have increased by approximately 21%, recording an all-time high record of 1.5 million people during the first half of FY2017. This has also raised the need to provide more fluent multilingual communication between Japanese taxi drivers and the foreign tourists.
In order to realize fluent communication between the driver and tourist, KDDI and KDDI Research have developed a Multiple Language Voice Translation System that is installed within Okinawa tourist taxis. Furthermore, when a tourist travels between places such as harbor and airport or tourist spots, the driver can guide the appearing points of Okinawa by using the system.
In this social experiment, we add a new function to translate terms based on the current location using GPS [3]. This will greatly improve the accuracy of specific geographical terms and enable fluent and stress free communication.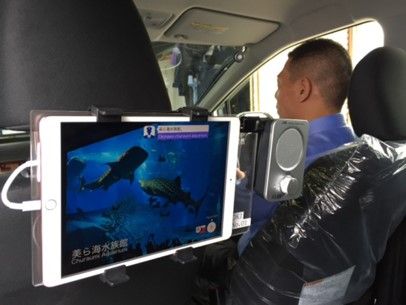 <Set up image>
KDDI and KDDI Research will continue their efforts to achieve hospitality that utilized ICT to ensure their customers will feel comfortable, improve customer satisfaction, and contribute towards the local economies through tourism.
For more details, please see the Attachment.
・Okinawa Hire-Taxi Association
[1] The Multiple Language Voice Translation System is constructed by KDDI utilizing technology developed by the National Institute of Information and Communications Technology (NICT). (Supported languages are English, Simplified Chinese, and Korean. (As of November 18, 2015)
[2] Reference: Okinawa Overview of statistic tourist of first half of FY2017 (announced on October 20, 2017) (in Japanese only)
[3] The Okinawa dictionary has more than 3000 place names of Okinawa registered.
※The information contained in the articles is current at the time of publication.Products, service fees, service content and specifications, contact information, and other details are subject to change without notice.