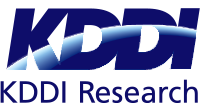 Print
Advanced Technology Laboratories
Simple but Accurate Prediction for Optical Network Management
July 7, 2021
KDDI Research, Inc.
KDDI Research, in a massive collaboration with multiple other research groups, TRANSNET (*1), based in University of Cambridge and University College London (UCL), and University of Bristol has successfully shown that the performance of installed fiber networks can be simply but accurately predicted with a new approach.
Using an installed fiber network in the UK called the National Dark Fibre Facility (*2), which links each of the universities together, prediction of network performance was conducted from three different nodes with transponders and performance monitors. They showed that the proposed technique can simplify complete characterization of the fiber network by introducing the concept of abstraction from computer science. They demonstrated that the prediction is viable, independent of node location on the network, and the equipment used for testing. This approach will help to reduce the computational cost drastically for the efficient network design and management.
The research has been published as open access in the journal, Scientific Reports from Springer Nature.
Title: Distributed abstraction and verification of an installed optical fibre network
Authors: David J. Ives (Cambridge), Shuangyi Yan (Bristol), Lidia Galdino (UCL), Rui Wang (Bristol), Daniel J. Elson (KDDI Research), Yuta Wakayama (KDDI Research), Francisco J. Vaquero-Caballero (Cambridge), Gabriel Saavedra (UCL), Domaniç Lavery (UCL), Reza Nejabati, Polina Bayvel (UCL), Dimitra Simeonidou & Seb J. Savory (Cambridge)
*1 TRANSNET is a research project led by University College London (UCL) in collaboration with Aston University and University of Cambridge aiming at creating an adaptive intelligent optical network.
*2 National Dark Fibre Facility, is an Engineering and Physical Sciences Research Council funded dark fibre network that connects the universities of Bristol, Cambridge, Southampton, and UCL.
※The information contained in the articles is current at the time of publication.Products, service fees, service content and specifications, contact information, and other details are subject to change without notice.