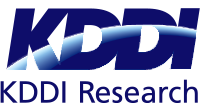 Print
Successful demonstration of new technology to operate 5G in a 4G LTE frequency band
Successful demonstration of new technology to operate 5G in a 4G LTE frequency band
- High-quality services will be provided with effective utilization of frequencies -
September 4, 2018
KDDI Research, Inc.
Saitama, Japan, September 4, 2018 -- KDDI Research, Inc. announced today that KDDI Research has succeeded in demonstration of new technology (hereafter "the technology") to allow the fifth generation mobile communication system (5G) to coexist effectively with the fourth generation mobile communication system (4G LTE) in the same frequency band. The technology enables the flexible allocation of radio resources to 4G LTE and 5G and hence maximized spectral efficiency, while without this technology the static partition scheme of reducing a bandwidth leads to lower peak throughput. Consequently, this can optimize the communication quality for users without degradation due to imbalance between amounts of resources and traffic during the transition from 4G LTE to 5G.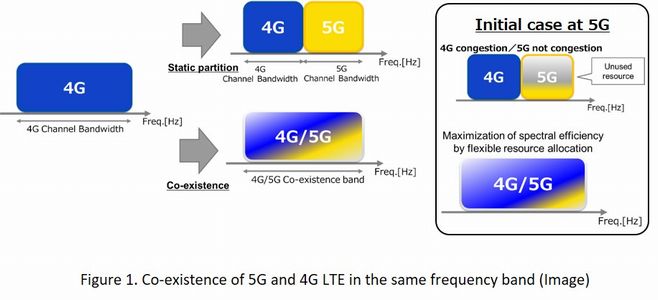 [Background information]
Towards the 2020's, new mobile applications of 5G, which require a wide and seamless service area and high-reliability and low-latency characteristics at the same time, are highly expected such as connected vehicles. In order for 5G to use low frequency bands that can cover a wide area, it is necessary to migrate existing 4G LTE to 5G if a new low frequency band for 5G is not prepared. One of migration scenarios is to assign the unoccupied bandwidth to 5G after reducing bandwidth of 4G LTE. However, imbalance between amounts of resources and traffic for 4G LTE and 5G might cause degradation of spectral efficiency and user peak throughput. Therefore, flexible allocation of radio resources between the systems in the same frequency band is required. Members of 3GPP have discussed coexistence of 4G LTE and 5G and then approved Release 15(*1) specifications which realize the coexistence, while they have not been proven.
[Achievements of the demonstration]
Now, for the first time in Japan, KDDI Research has proven that it is possible for 5G to coexist with 4G LTE in the same frequency band based on Release 15 of the 5G specifications approved by 3GPP. We demonstrated it via an over-the-air signal using an experimental system (*2) in a shielded room. However, within the 5G specifications, we also found the interference between the 4G LTE reference signal and the 5G synchronization signal (hereinafter "inter-system interference," see Figure 3). Thus, we proposed a new technique applying the MBSFN function,(*3) which is an existing function of 4G LTE, not to transmit 4G LTE reference signal periodically which causes the inter-system interference, and we have successfully demonstrated that it could drastically suppress inter-system interference (see Table 1).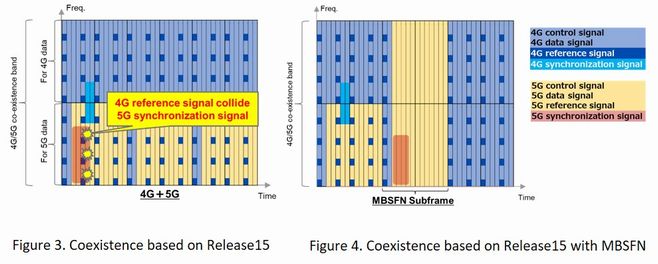 [Future outlook]
KDDI Research will conduct verification tests for various challenges envisioned for practical application, further improve the performance of this technology, and promote research and development, including standardization activities.
[Terminology]
*1 Release 15 is the first set of 5G standards, where detailed specification examination of 5G was conducted.
*2 SMW200A / FSW8 manufactured by Rohde & Schwarz
*3 Multicast Broadcast Single Frequency Network: The channel specified in 3GPP Release 9 and used for a multicast service in which one base station communicates data with multiple terminals concurrently. The MBSFN sub-frame can transmit no reference signal except for the control signal area.
*4 Error Vector Magnitude: One of the indicators of signal quality. A measure of modulation or demodulation performance. The lower the number, the better the quality.
【About KDDI Research】
KDDI Research plays the core of research, development and think tank of KDDI group. Looking to the future beyond 2020, KDDI Research would like to strengthen and accelerate the creation of next-generation technologies and the enhancement of the ability to predict the future across the company, while promoting a seamless flow from research analysis to R&D. In order to provide customers with new value and experiences, we would like to continue the "Challenge for the Future" through such activities.
※The information contained in the articles is current at the time of publication.Products, service fees, service content and specifications, contact information, and other details are subject to change without notice.