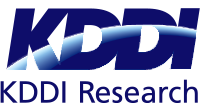 Print
Development of Codec Equipment Applicable for Real-time Transmission of 8K UHDTV signals
Development of Codec Equipment Applicable for Real-time Transmission of 8K UHDTV signals
April 11, 2011
KDDI R&D Laboratories, Inc.
KDDI R&D Laboratories Inc. has succeeded to develop a compact style codec equipment that can realize real-time transmission of 8K Ultra-high Definition Video (UHDTV) at extremely high compression performance. By utilizing this equipment, the 8K content delivery is possible over typical broadcasting network such as FTTH, CATV and satellite circuits. This research was conducted under the research project, "Ultra-high definition video compression coding technology", organized by the National Instituteof Information and Communications Technology, Japan.
※The information contained in the articles is current at the time of publication.Products, service fees, service content and specifications, contact information, and other details are subject to change without notice.