Greeting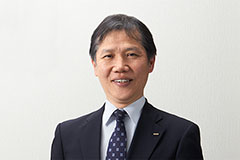 Toward human centric affluent society via new value creation
Toward human centric affluent society via new value creation
KDDI R&D Laboratories, Inc. (hereinafter referred to as "KDDI R&D Laboratories") and KDDI Research Institute, Inc. (hereinafter referred to as "KDDI Research Institute") merged and a new company, "KDDI Research, Inc.", was born on October 1, 2016.
Recently, such services as fixed-mobile bundle services and/or low cost SIM services have been widely available, and these trends of similar service and/or lower pricing have been accelerated more than ever. Therefore, KDDI is transforming itself into a business provider focusing on customer experience value which goes further than expected and aims to change from a telecommunication company into a "Life design company".
As the core of KDDI group's research and development since April, 1998, KDDI R&D Laboratories has consistently conducted the research, development, and practical use of the world's leading information and telecommunications technologies in a wide range of research fields. As KDDI group's think tank since October, 1990, KDDI Research Institute has put efforts into various kinds of research projects and analyses with information and telecommunication at home and abroad. As a new company, KDDI Research will strengthen both companies' research functions, and the creation of next-generation technologies with future prediction.
We will continue "Challenge for the future" through a wide variety of investigations, research and development aimed at the creation of new value that will contribute to the development of human centric affluent society.
Yasuyuki Nakajima
KDDI Research, Inc.
President and CEO